I really appreciate all the support you've given as my music career has grown over the years. Seriously. Thanks! In return I'd like to offer you a gift.
What you get if you win: SIGNED COPIES of my complete CD collection! ($93.94 value!)
*Moment of Peace
*Heart to Heart
*Silent Night
*Witness
*The KEYS To Billy Joel
*You Will Soar
*Believe

TWO WINNERS will be drawn at midnight (I'll be up watching basketball) one week from today - May 30th. I'll keep this at the top until then.
So how do you enter???
1) Make a comment on this here blog. Each comment will receive an entry. (1 comment = 1 entry, 2 comments = 2 enteries, etc. Go nuts.)
2) Forward on the contest to your friends. (Just make a comment telling me how many people you forwarded it to and I'll put your name in that many times.)
3) Become a coryreese.blogspot.com follower = 3 entries! Or...
4) Post this button on your blog = 5 entries! What!?!
(Simply copy the HTML code below, go to your blogspot layout page, then click on "add a gadget". Then select the "HTML/java script" link and paste the code below in the content box. Frighteningly easy.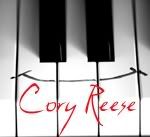 Have Fun & Good Luck!